Sigma Fasteners manufactures Tap End Stud bolts to your print, Tap End Stud Bolt Standard or AWHEM Standard in all ASTM grades.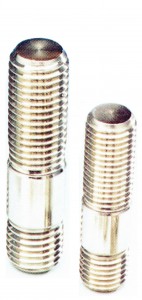 Tap end studs have a short thread length on the tap-end side typically threaded tor Class UN-3A fit. This side is screwed into a tapped hole. The nut end  of the stud is threaded with a Class UN-2A fit. Length of the stud is measured form end to end. The tap end has a chamfered point, but the nut end may have either a 30° or 45° chamfered end or round raduised end, at the customers option.The tap end can be measured from the end to last scratch, end of the chamfer to the last full thread or any combination of last scratch, last full thread, end or end of chamfer.

Tap-end studs in standard and exotic metals with multiple finishes:

ASTM B7, B7M, B8, B8M, 660,718, 17-4ph, MP35 and more.
Unfinished, SermaGard, Xylan, PTFE. Moly, zinc or cad plated.
Sigma can lower your cost for tap end studs with contract pricing or managed inventory.
Catalog: Tap End Stud