Double End Studs – Double ended studs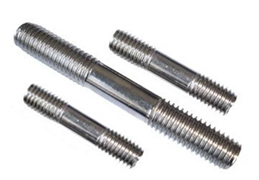 At Sigma Fasteners we provide mission critical bolting products for the nations leading manufacturers of pressure control equipment for controlling pressures during drilling and oil production.
Double-end studs used by many of these manufacturers have equal-length threads on each end to accommodate a nut and are threaded to a Class 2A fit. Length of stud is measured overall. Both ends have chamfered points, but round points may be furnished on either or both ends at the manufacturer's option, This style is furnished in the same four types listed for tap-end studs. Double-end studs are used for flange bolting or other applications where torching from both ends is necessary or desirable.
Most steel grades not heat treated or quenched and tempered can be furnished on special order for production quantities. Only the Type 2 continuous thread studs made to specification ASTM A193 grade B7 are stocked in a full range of sizes.
ASTM Material Selection Chart B7, B7M, L7, L7M, 660, 718 Inconel, MP35N