Sigma Fasteners manufacturers coated studs to meet major Chemical and Oil Company specifications. Sizes range from 1/2 inch – 3 1/2 and larger.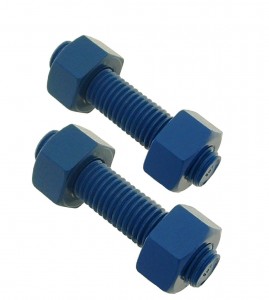 Sigma coated bolts have a two-layer structure of special pretreatment polymer film and under-treatment layer. Phosphate Pre-treatment technique insures the physical performance of product without changing and fluropolymer top coating results in a better performance in resisting chemical and seawater corrosion. SermaGard coating is different from PTFE because of their strong corrosion resistant ability. Xylan can be different per customers request to meet various environmental working conditions.
Xylan
SermaGard
PTFE
PTFE
Moly
Xyan combined with an advanced treatment technology; the film is thin but is excellent in corrosion resistance which prolongs the lifespan of the product.  Non-stick and low friction properties can make-up the torque coefficient which is easy to install and disassembling. Property of chemical & weather resistance make it suitable to various severe environments.
Xyaln and SermaGard coatings are the best choice in offshore, oilfield and petrochemical precision equipment against corrosion. Its properties are particularly suitable for surface corrosion prevention of underwater precision equipment including Christmas tree, BOP and pipelines and other parts.
Xylan coating properties:
Low friction ( as low as 0.055)
Remarkable adhesion
Unusual resistance to wear and abrasion
Excellent resistance to corrosion
Resistance to chipping
Resistance to the elements: weather, sunlight, salt water
Working temperature range from: -190 to + 260° C
Available in a wide range of colors